2 Locations
To Serve You
in Parker & Palo Pinto counties
214 Santa Fe Drive
Weatherford, TX 76086
9:00 a.m - 6:00 p.m.
Appointments 7 Days a Week
(817) 304-4648
Quality Grooming Since 2007
801 East Hubbard
Mineral Wells, TX 76067
In Brazos Animal Hospital
9:00 a.m - 6:00 p.m.
Appointments 7 Days a Week
(817) 304-4648
Quality Grooming Since 2007




Spa
Services
Appearance, Health & Wellness
Specility Baths • Regimens and Treatments

Go To Spa Services






Services Dispensed with Knowledge, Skill, Responsibility, and Especially Love!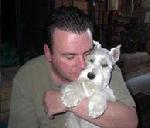 Danny Tucker
Finally, a grooming salon you can trust!

Sure, Dog Day Afternoon Spa meets all the requirements that any responsible dog or cat owner looks for. But, Danny Tucker and his crew go much further demonstrating exceptional care and concern for your prized pets. While some groomers have been cited for poor treatment of the animals in their care, you can be confident that your dog or cat will be handled not only with professionalism and knowledge, but also with gentle and sincere love, too.

Unlike in-and-out, high turnover, factory-like salons, Dog Day's priorities are our customer's concerns and the indulgent care of your pet.

You and your pet are welcomed in safe and clean premises by a positive and happy staff. Our serene and tranquil atmosphere is based upon our Zen spa area. Procedures and equipment are designed to minimize stress and foster relaxation in a comforting environment.
Dog Day's Pooch Spotlight

For a few weeks, Danny's dog of 13 years, Macie, had been getting thin and she was eating less. Danny went out of town Wednesday and by Thursday Macie stopped eating altogether. As weak as she was, she got out of her bed and walked a little as if she was looking for something. By Sunday she hardly moved, but she did open her eyes when someone came near—still as if she was in search of something. Well, her partner and protector that she had known since the day she was born came home. One hour after Danny gave her a warm embrace, she realized that she was with the one person who had cared for her every day of her life, Macie then closed her eyes and passed away. It seems that she knew she was leaving, but she didn't want to go without being with her loving Danny. As it was, for four days Macie was not looking for something, but someone.
Here's the basic introduction to what you need to know. Click image.
© Dog Day Afternoon Spa, Inc. All Rights Reserved.